Top Stories
If you can't make it to the game, get play-by-play updates on Linn County Mustang baseball games from your computer. Go to: http://iscorecast.com and enter in Customer ID: DDCCC01FF1 (The easiest way to do this is to copy the ID and paste it into the box on the website) (Some games might not be available if Internet access is not available at the baseball field.) You can also watch past games on the website.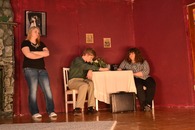 Congratulations to the cast, crew, and Miss Kingsolver for a successful play on Friday, March 11.
In accordance with Federal civil rights law and U.S. Department of Agriculture (USDA) civil rights regulations and policies, the USDA, its . . .
The Ledger is available to view online. Contact the school at (660) 244-5035 if you would like to stop receiving the Ledger in the mail. . . .